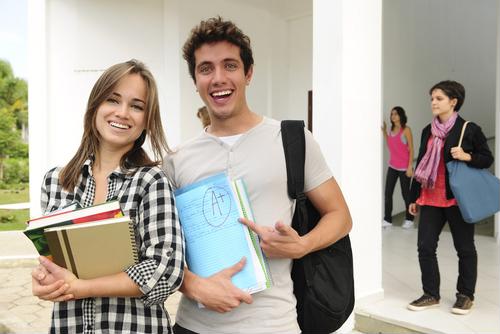 The fall semester is about to begin, and if you're sending one of your kids off to college for the first time, you may be wondering what kinds of things to pack and purchase. It's probably been awhile since you were in his or her shoes, after all! To help you out, here's a list of the top 10 things your student will probably need.
1. New bedding. While you may think it smart to have your kid bring the same sheets and comforter from home to school, this might not work. Many colleges outfit their dorms with extra-long twin beds, which means your son or daughter will need extra-long sheets.
2. Toiletries. Your kid's going to need to pack up everything he or she needs for personal hygiene, from toothpaste to shampoo to contact lens solution. If the dorm he or she is in has a communal bathroom, it's a good idea to get a cheap pair of flip flops and a shower caddy, too.
3. Towels. Bath towels are important, as well as wash cloths, hand towels and maybe even a couple of rags for cleaning.
4. Discount window treatments. To keep the sun out on those weekend mornings when your child wants to sleep in, purchase some blinds and shades. Dorm rooms aren't always equipped with these.
5. Desk lamp. If your child has a roommate, it's courteous to use a desk lamp instead of the overhead light at night, just in case he or she wants to go to bed earlier than your son or daughter.
6. Cleaning supplies. Even if your child's notoriously messy, he or she will probably start wanting to clean up after realizing that it won't get done otherwise. Some glass cleaner, shower and toilet cleaner, paper towels and a small vacuum are all useful.
7. School supplies. Of course, your student's going to need the usual supplies to get through classes. Folders, notebooks, pens, pencils and a calculator are pretty standard.
8. Extra storage. The dorm room might have a closet and a set of drawers or two, but if your son or daughter has a lot of clothes and things, a few crates or extra shelves might come in handy. Make sure to get clothes hangers if there's a closet.
9. A reliable computer. Unless he or she is willing to go to the library to complete assignments, a laptop or desktop computer is necessary. Many professors rely on the internet for coursework.
10. A mini fridge. Some schools supply these, but if your son or daughter's college doesn't, you may want to pick one up. It's useful for keeping leftovers, drinks and other foods that your kid doesn't get from the dining hall.