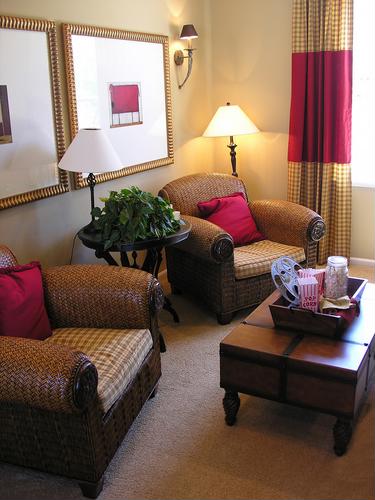 If you feel that your living room isn't as comfortable as you would like it to be, it might be due to your interior design. Even the largest plush sofa and refined coffee table can only do so much to create a cozy sensation in this frequently used room in your home. Having trouble creating decor that warms your soul? Take these tips into account as you redesign your living room and turn it into a sanctuary for you and your loved ones.
1. Combine old with new.
House Beautiful Magazine reports that combining old and new decor can be just the trick when it comes to creating a cozy space. While you'll want to bring in new decorations to develop a fresher look, keeping around old heirlooms such as figurines and paintings can maintain the sentimental feel of the space.
2. Bring in the light.
What better way to make a room feel quaint than with discount window treatments that allow sunlight to flow through the space? Consider wood blinds or drapes to create a homey sensation in your living room and brighten up the area. You'll be surprised at how often you'll want to use the room once it's light, warm and welcoming.
3. Use oversized furniture.
There's a time and place for oversized, comfortable furniture, and your living room is the perfect area if you're striving to create a more cozy feeling. These type of tables and chairs can also help you develop a traditional interior design that you can learn to love for years to come.
Whether your living room has been yearning for some tender, love and care or you simply want to try new decor, these three tips can help you create a relaxing space for the whole family.